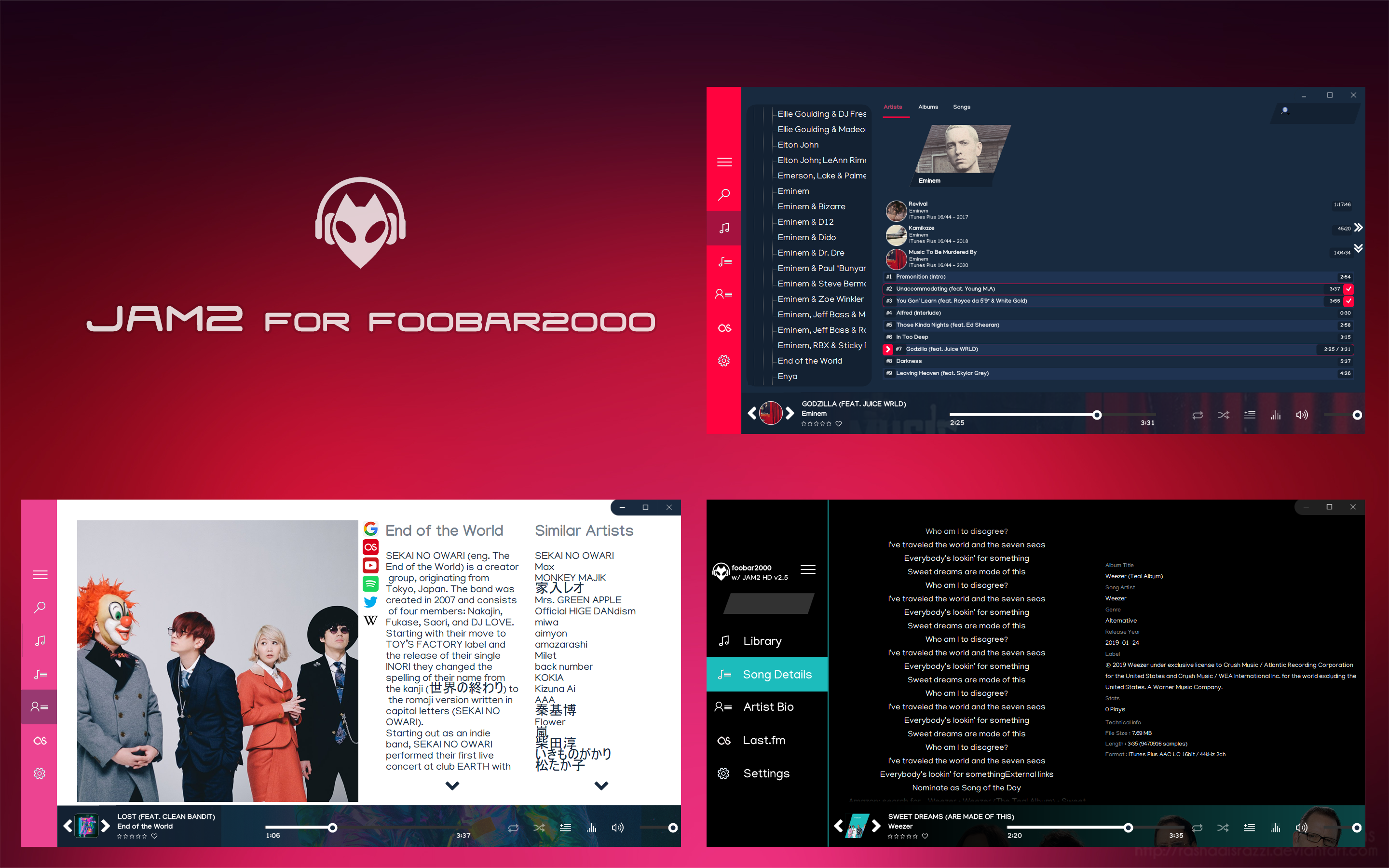 Requirements:
foobar2000 v1.6.4 Stable

At least 2560x1440 (QHD) screen, higher is recommended
Previews:
- JAM 2 for foobar2000 - Additional Screenshots

This is a one-time purchase, meaning you'll get lifetime updates for free!

Read first :
The window frame should look like the preview image, regardless what Windows version and custom VS you're using.

Installation and basic setup guide is included in the zip archive.
Changelog :
*Last 5 updates. Check the guide for complete changes
V2.8b [01 Mar 2021] (Optional beta version)
Centralized Font Size Control
V2.7.2 [23 Dec 2020]
Switch lyric component to ESLyric
Fixes iTunes Plus label on some album
Alternative Grouping & Sorting Presets by juicethehedgehog
Compatibility check with foobar2000 v1.6.2
Minor fixes and improvements
V2.7.1 [23 Sep 2020]
Add Last.fm tracks play count

Add option to completely disable Last.fm integration

Better handling of compilations & multi-discs contents

Update JScript panel to 2.4.1.1 (fix artist pictures not downloading)

Fix album art not showing on now playing track

New Library Tree and Playlist panels

Various ELPlaylist enhancements

Fix iTunes Plus contents sometimes shown as regular AAC

Compatibility check with foobar2000 v1.6

Minor fixes and other improvements



V2.7 [23 Aug 2020]
Revamped Now Playing UI

Added visualization panel

Added waveform seekbar

Improved background image's size and position calculation

Update Jscript panel component to v2.3.6.1

A lot of bug fixes and other improvements
V2.6.2 [01 Jul 2020]
Compatibility check with foobar2000 v1.5.5

Minor fixes

Credit to :

- marc2003 for JScript Panel and his scripts
- rashadisrazzi for Aziatic wallpaper (edited)
- dAKirby309 for foobar2000 icon from Metro UI Icon Set