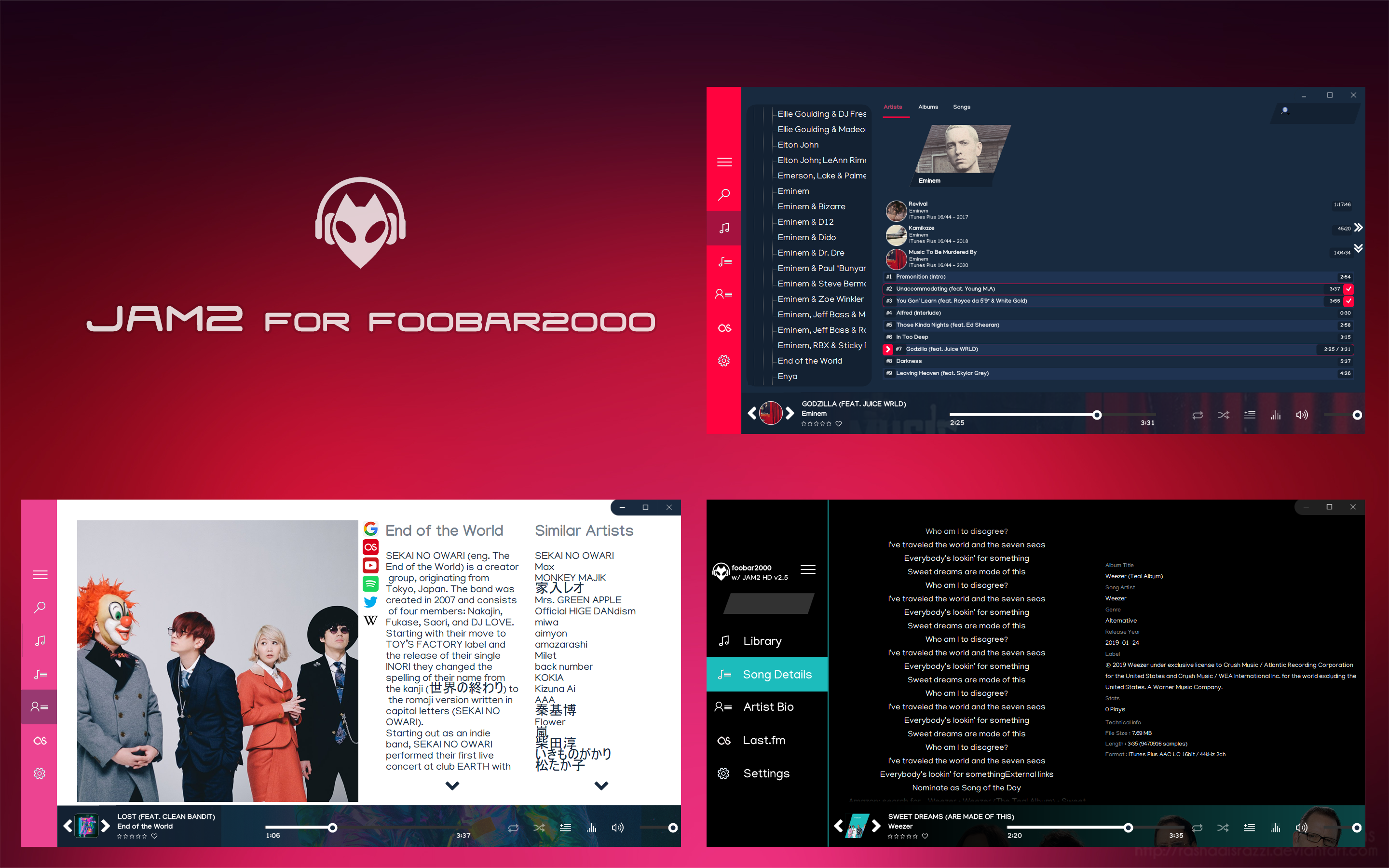 This is a one-time purchase, meaning you'll get lifetime updates for free!
*Note for users who bought from Sellfy before. I'm switching to Gumroad starting July 1st.
Download the latest version
here
and use the discount code to download from Gumroad for free until July 31st.

Read first :
1. Window frame should look like the preview image, regardless what Windows version and custom VS you're using.
2. Installation and basic setup guide is included in the zip archive.
Changelog :
V2.6.2 [01 Jul 2020]
- Compatibility check with foobar2000 v1.5.5
- Minor fixes
- Compatibility check with foobar2000 v1.5.4
- Numerous graphical fixes
V2.6 [23 Apr 2020]
- Introducing new Now Playing interface
- Add rating, loved status and popup on ELPlaylist panels
- Improvements for streaming contents (Internet radios)
- Update some components to the latest version
- Compatibility check with foobar2000 v1.5.3
- Bug fixes & minor improvements
V2.5 [23 Mar 2020]
- Change layout to new and enhanced UI (Previous UI still available to use)
- A lot of bug fixes & Improvements
V2.3 [23 Feb 2020]
- First preview of the new and enhanced UI (check the 'Jam installation' section in the user guide to try it)
- Update some components to the latest version
- Compatibility check with foobar2000 v1.5.2
- Minor fixes and improvements
Credit to :

- marc2003 for JScript Panel and his scripts
- rashadisrazzi for Aziatic wallpaper
- dAKirby309 for foobar2000 icon from Metro UI Icon Set